United Airlines: Customer Service and PR Crisis
Customer service and experience are key elements for a company to remain successful. With the rapid spread of news through social media platforms and websites companies can no longer hide if they make a mistake. Many people carry smartphones with them and with the press of a button can record or take photos of a situation that can drag a company's image down in a matter of hours.
A couple of days ago United Airlines was faced with this issue. Videos went viral of a customer being forcibly removed from a flight. Even if the company felt that they had valid reasons for the passenger to be removed, the way in which they removed the customer was extremely harsh. In a matter of hours United Airlines was faced with a public relations and customer service nightmare. Damage control in this kind of situation needs to be quick and customer oriented. If you have not seen a clip of what happened here is a link: Passenger Video by The New York Times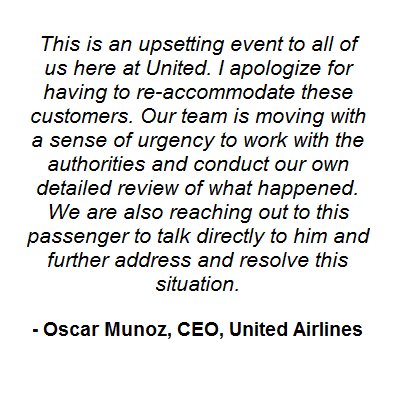 The statement to the right is one that @united tweeted on April 10 in the aftermath of the incident, showing a statement by the companies CEO, Oscar Munoz:
An article by Julie Crewsell and Sapna Maheshwari published in The New York Times listed some of the facts about this case. The passenger, Dr. David Dao, is now being treated for injuries in a Chicago hospital. He is already represented by attorneys who will undoubtedly be pressing charges against United Airlines. Not only will they face a lawsuit, but face complaints about the company changing their stance about this incident.
The company has since taken a hit to their stocks and have received rapid complaints and criticism through different social media platforms. Many consumers have gone to Twitter to complain about this incident. Not only did United Airlines mistreat this paying customer, but they have now also ruined their reputation regarding customer service. In my previous post about social media backlash I listed some ways that companies can recover from these sorts of situations, with the example of Pepsi who also recently faced social media criticism for their advertisement.
Physically abusing a customer is not the answer for a situation where the plane was overbooked. Companies like United Airlines will end up paying millions in a lawsuit like this, instead of offering rewards to incentivize customers to take the next plane. Taking volunteers and providing a guest service attitude of making the customer happy is the way to go in these sorts of situations. Now United Airlines will most likely be paying out millions for this situation, which could have easily been avoided with the right policies and procedures.
What are your thoughts on United Airlines treatment of this customer? Are you likely to travel with them in the future? Let me know by leaving a comment!
Photo Credit: United Logo, CEO Statment